I attended the Sea N Sound Festival for Scenestr and reviewed three artists on Saturday, 11 June 2016.
The Sunshine Coast has arguably been an untapped market for live music festivals. But that was all put to rest for the inaugural Sea N Sound Festival (11 June).
Sahara Beck came on at 5pm to a warm crowd who weren't yet ready to dance. By the time she had launched into 'Brother Sister', head nodding was occurring and the 20-year old exuded a confidence far beyond her years.

Sahara Beck – image © Sophie Wakefield
Her earthy roars were much appreciated by the crowd, as was her unexpected rendition of Rage Against The Machine's 'Killing In The Name Of', which an enthusiastic crowd sung along to (you know which part).
The best way to describe the singer, who was accompanied by a fella called Enzo on bass as well as an impressive percussionist, would be jaunty rockabilly. She asked the crowd if they could up the 'dance-o-meter' for an upbeat version of Elvis' 'That's Alright Mama' and they willingly complied.

Sahara Beck – image © Sophie Wakefield
She ended her set with a mellow, acoustic number that was also well received. As an up and coming artist, Sahara was impressive.
Sahara Beck and yours truly
After a brief break, Ash Grunwald rocked on stage, receiving cat calls from the crowd about his hair (he'd lopped it all off) in a good-natured way, engaging with the audience.
By now, the crowd were fully into it. Ash launched into 'Open Country', a single from last year that sounded – and felt – amazing. The reverberations were incredible and he asked the crowd if they were ready to ''revelate – whatever the f#ck that means". They were and he launched into a cover version of 'John The Revelator'.

Ash Grunwald – image © Sophie Wakefield
Following this song with a song that had a resemblance to Canned Heat's 'On The Road Again'; it personified his rootsy-soul-rock approach that he has carved out for himself. Finally, a cover of Gnarls Barkley's 'Crazy' went over very well with the now, very-lively crowd and left the stage to rapturous applause.
Pete Murray took to the stage next and immediately launched into his brand of laidback surfer's rock that pretty much sums up the Sunshine Coast lifestyle. He played all of his hits: 'Bail Me Out', 'So Beautiful' and 'Better Days', which were lapped up by the audience. He also introduced a new song named 'Burning Flame' that was so-so.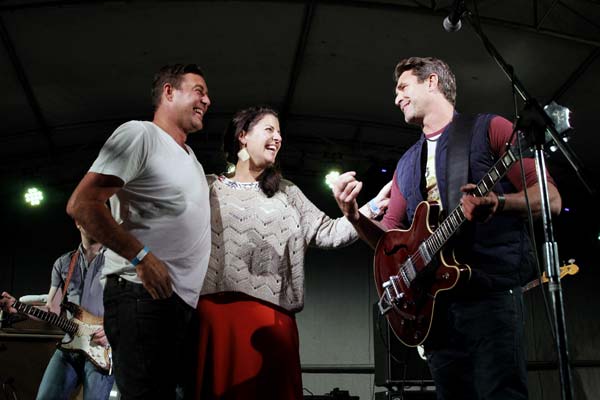 Pete Murray with a couple who got engaged during the show – image © Sophie Wakefield
Pete's set on the night will be remembered for the wedding proposal that he spotted happening before his eyes in the seething mass of music lovers beneath him. A bloke named Ryan asked his partner Amber if she would tie the knot, which she thankfully said yes to, receiving a roar of approval from the punters. Pete then invited them up on stage providing everyone with a warm and fuzzy feeling and dedicated a song to the happy couple.

Pete Murray – image © Sophie Wakefield
Pete introduced his newest band member on the Korg digital piano, who was doing a fine job, as were his energetic drummer and two guitarists. While some of his material can be a little 'samey', this crowd was loving every minute of it and he dedicated his last song 'Always A Winner' to them. After shouts of an encore, he came back for one more song and, of course, a satisfied and loud crowd.
(http://scenestr.com.au/music/2016-sea-n-sound-festival-the-wharf-tavern-review)